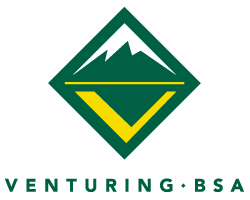 Welcome to the Venturing webpage of the Five Rivers Council. The content of this page is designed to provide many different resources for the youth and adult leaders of current Venturing Crews as well as interested individuals and organizations thinking about organizing a Venturing Crew in their neighborhood. Just click on any of the links below to go to the various topics associated with Venturing BSA.
How to get started:
Contact your District Executive if you would like to join Venturing or start a Crew.
What awards can I work for in Venturing?
National resources for Marketing/Recruiting for Venturing
Venturing in the Five Rivers Council:
2018 Venturing Officer's Association - Aeronautics September 14-16
FORMS
Venturing District Chairperson
Venturing Mentor Profile Sheet
Venturing Administration Guide
Venturing Standard Operating Procedures